by Cindi McMenamin @CindiMcMenamin
The Lord is my strength and my shield; my heart trusts in him, and he helps me. My heart leaps for joy, and with my song I praise him. Psalm 28:7 NASB
It's been one of those weeks.
A week in which it seemed like every time I turned around, there was another unexpected expense, more disappointing news, and what appeared to be another setback. The week culminated with the cancellation of a job I was preparing for…a job that was to result in income my family was depending on.
"Really, God?" I said aloud at the end of the week when I received the devastating news. "Can You give me a break?"
I happened to be putting together teaching material that week for a women's retreat that was themed "Choose Joy." Suddenly it became apparent to me that I was not choosing joy in the midst of my circumstances. I was, instead, letting my circumstances control my life and my attitude.
I remembered a passage from Scripture that I'd memorized as a teenager. One that God seemed to be whispering in my ear: "Consider it pure joy, my brothers and sisters, whenever you face trials of many kinds, because you know that the testing of your faith produces perseverance. Let perseverance finish its work so that you may be mature and complete, not lacking anything" (James 1:2-4, NIV).
Consider it joy? "But, God this isn't joyful. Not in the least," I responded aloud.
But God, in His goodness, wanted me to choose joy, even if I didn't feel like it.
God has made it clear to me through the years that joy is not about our circumstances, it's about our condition. Our circumstances change from day to day. But our condition – as a child of God and the recipient of His eternal blessings – never changes.
Joy is not about what is happening – or not happening – in our lives. Joy is about Whose we are.
"God, help me to respond in a way that pleases You," I prayed. And He reminded me that not only is the joy of the Lord my stronghold (Nehemiah 8:10) but as I dwell in His presence, recounting my blessings and realizing He is my greatest joy, He will meet me there.
David, the Psalmist, sang: "In your presence there is fullness of joy" (Psalm 16:11), and in Psalm 4:7, he sang: "You have put more joy in my heart than they have when their grain and new wine abound" (ESV).
I have enough in all God has chosen to give me thus far. And He will never take away Himself (Hebrews 13:5). Therefore, I have all I will ever need to choose joy every day.
Lord, help me to please Your heart by remembering that no matter what comes my way today, You have gone before Me, and You remain alongside me, and – as Your Word says – in Your presence is abundant joy.  
TWEETABLE
When I Need to Choose Joy – @CindiMcMenamin on @AriseDailyDevo (Click to Tweet)
About the author: Cindi McMenamin is an award-winning writer and national speaker who helps women strengthen their relationship with God and others. She is the author of 17 books including her best-selling When Women Walk Alone (more than 130,000 copies sold), Letting God Meet Your Emotional Needs, When a Woman Overcomes Life's Hurts, and When God Sees Your Tears. For more on her books and resources to strengthen your soul, marriage, and parenting, or for more information on her coaching services to help you write the book on your heart, see her website: www.StrengthForTheSoul.com.
Recapture the romance of a relationship with God with When God Pursues a Woman's Heart. Within the heart of every woman is the desire to be pursued, cherished, and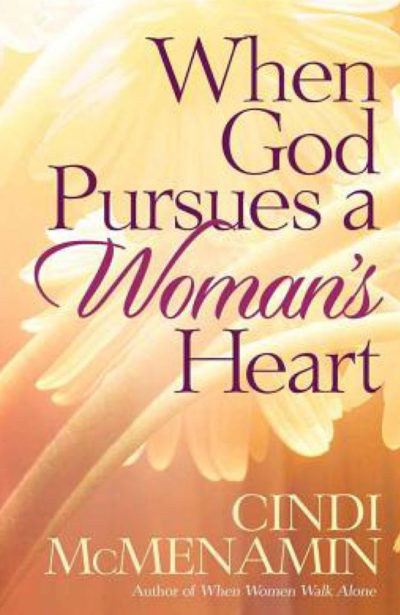 loved. There's only One who can lavish such love. Join Cindi as she takes you through the Bible to discover how God offers a relationship like no other.
Join the conversation: Have your circumstances ever kept you from joy? What did God teach you about Himself through it?