by Cindi McMenamin @CindiMcMenamin
Behold, I am the Lord, the God of all flesh; is anything too difficult for Me?                                                                                                                                                         Jeremiah 32:27 NASB
I am waiting upon God to come through for me in a particular way. But when I tell others of the hope I have, I often hear the words "at least."
"At least you have a roof over your heads."
"At least the two of you have jobs."
"At least you're healthy."
"You might as well at least ask."
Oh, the sting of well-intentioned remarks. And, oh the sting of those two guilt-ridden words: At least….
As I've ministered to women over the past 30 years, I have seen so many settle for "at least" in their lives.  And yet, I believe that if God went to such great extremes to show His love for you and me by having His only Son die on the cross for us, then He did not intend for us to be content with "at least."
Yes, God's Word says we are to be thankful in all circumstances. (1 Thessalonians 5:18)  It also tells us godliness with contentment is great gain. (1 Timothy 6:6) But God doesn't want our gratitude and contentment to be a form of resignation ("I guess I should be happy with this, since it's all I will ever get anyway"). Rather, God wants His children to be full of anticipation for the "more" that He is so capable of giving – to the point that we thank Him ahead of time for all that He is about to do. This God who tells us to be thankful in all things actually raises the bar when we decide to settle for less or at least what life brings us.
In Ephesians 3:20, we are told that God "is able to do immeasurably more than all we ask or imagine, according to his power that is at work within us" (NIV). You and I often hear or think or say the words "at least" when it comes to our lives. And yet God's Word says "Ask and you will receive, and your joy will be complete" (John 16:24 NIV) and "without faith it is impossible to please God" (Hebrews 11:6 NIV).
Perhaps God would like us to ask for a little more of the impossible.
I don't want to be reluctant to pour out my heart to God. I don't want to doubt He can or will do this for me. Instead, I want to honor Him by remembering He can do anything.
Lord, help me to be content in all things, and surrender to Your best for me, but don't let me settle for less when You are the God who is capable of going above and beyond all I can think and ask for.
TWEETABLE
Believing God for More than "At Least" – wisdom from @CindiMcMenamin on @AriseDailyDevo (Click to Tweet)
About the author: Cindi McMenamin is an award-winning writer and national speaker who helps women strengthen their relationship with God and others. She is the author of 16 books including When Women Walk Alone (more than 130,000 copies sold), God's Whispers to a Woman's Heart, and When God Sees Your Tears. For more on her books and ministry, or to learn more about her coaching and consulting services for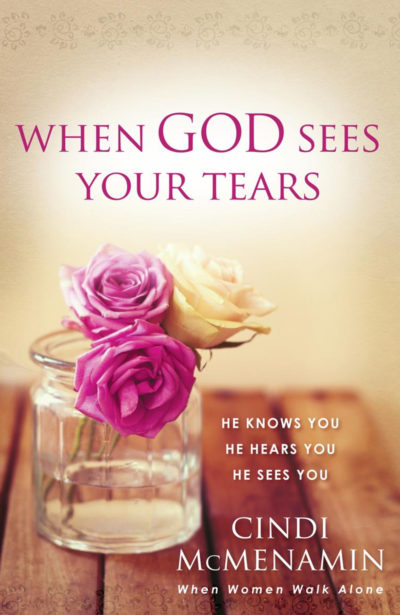 writers, see her website: www.StrengthForTheSoul.com.
Cindi's book, When God Sees Your Tears, addresses our struggle during heartache: "Where is God when you need Him most? Doesn't He care?"
Yes, you are precious to God. He knows the longings of your heart even more than you do. Place your trust in Him and rest…as you await the unfolding of His plan for your life.
Join the Conversation: When has God done the impossible for you?