by Cindi McMenamin @CindiMcMenamin
You are my hiding place; you will protect me from trouble and surround me with songs of deliverance. Psalm 32:7 NIV
My friend was at her wits end. She was overwhelmed with all there was to do while being stuck at home with three children, a stressed-out husband, a pile of laundry to do, a pile of dishes in the sink, two barking dogs, and a fish in a tank that needed cleaning.
When I called she was nearly at her breaking point. She vented. I listened. We talked about how sometimes it's life. Sometimes it's unexpected circumstances that take us by surprise. And sometimes, we just need to get away from it all. I asked if she had somewhere – anywhere – to go in her house where she could be quiet and alone and we could pray.
"Maybe the closet!" she said, exasperated.
"Go to your bedroom closet and shut the door," I instructed.
She brought the phone upstairs and into her large walk-in closet and shut the door. She sat on the floor and we prayed. There in the dark and quiet of her bedroom closet, my precious overwhelmed friend found her hideaway with God.
It's when we find our hideaway with God that we can begin to hear His sweet songs of deliverance.
"You are my hiding place," sang David in Psalm 32:7. "You protect me from trouble. You surround me with joyful shouts of deliverance."
When I imagine God as my "hiding place," I realize I can go away with Him in my heart at any time and find that quiet place of rest and worship. But sometimes it's not so easy, when we have distractions all around us and noise in every direction. That's why it's important to find our "hideaway" and retreat there often.
Maybe your hideaway is in your living room chair in the early morning. Maybe it's your study where there's a fire going and a cup of hot cocoa on your desk. Maybe you're like my friend and your hideaway is on the floor of your bedroom closet. Or maybe you have to resort to the quiet of your car, even if it's parked in the driveway as an escape from the noisy house. Wherever that quiet place is, go there often and thank Him for meeting you there.
 Lord, lead me to my hideaway in You so I can get quiet, sense Your presence, and hear Your sweet songs of deliverance. Thank You for always meeting me here in the quiet.
TWEETABLE
Find Your Hideaway – encouragement from @CindiMcMenamin on @AriseDailyDevo (Click to Tweet)
About the author: Cindi McMenamin is an award-winning writer and national speaker who helps women strengthen their relationship with God and others. She is the author of 17 books including her best-selling When Women Walk Alone (more than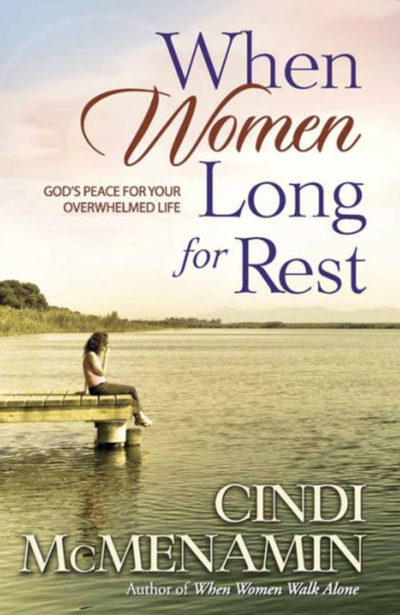 145,000 copies sold), Women on the Edge, and When Women Long for Rest: Finding Peace for Your Overwhelmed Life, all on sale at her website now: www.StrengthForTheSoul.com.
Join the conversation: Where is your favorite hiding place?