by Cindi McMenamin @CindiMcMenamin
Do you ever just need to get away from it all?
Whether it's busyness, constant noise, people who are making demands on us, or you're feeling the need to be still, it would be nice to slip away to a quiet place.
I remember doing just that.
I grew up in a small two-bedroom house for my parents, myself, my two brothers and a sister. Shortly before my youngest brother was born, we added onto our house. We literally tore the wall down in a closet and attached a long hallway that led to two large bedrooms, a utility room and office, and another bathroom. But the first door you came to in that long hallway was what we called "The Quiet Room."
My mom insisted on having a little room built, no larger than a closet, as a "sanctuary" in the house. There was just enough room for a desk, chair, and lamp. It was where she wrote music, read her Bible, and prayed. It was the room (with a lock on the door) where anyone could go to shut out the world and pray. We didn't use that room at all as kids. (Since when do children need to get away from it all and have some silence? That's what they get for punishment, not a reward!)
But during the three months before I married, I moved back home and the little "Quiet Room" became my sanctuary. It was where I spent the first hour of my morning with God, pouring into His Word, pouring my heart out to Him in prayer, and just listening to Him in the quiet of the morning. I look back on those days now as precious times in the sanctuary of "The Quiet Room."
How I long for a "Quiet Room" today!
God says our bodies are His temple (1 Corinthians 6:19). That means there's a sanctuary – a "Quiet Room" – in our hearts where we can hide away with Him every day. I don't have to be in a certain physical place to find Him, I only have to get quiet enough to hear His voice. I just have to enter the "Quiet Room" in my heart and meet there with God.
When Moses had been with God on the mountain for 40 days, his face shone brightly as he came off of that mountain and everyone knew he had been with God (Exodus 34:29-35). When I emerge from my "Quiet Room," it is my prayer that everyone will know that I, too, have been with God.
 Lord, thank You for the way you call me to a quiet place to commune with You.
 He makes me lie down in green pastures. He leads me beside still waters." Psalm 23:2 ESV
TWEETABLE
The Quiet Room – encouragement from @CindiMcMenamin on @AriseDailyDevo (Click to Tweet)
About the author: Cindi McMenamin is an award-winning writer, national speaker, and certified writing coach who helps women strengthen their relationship with God and others. She is the author of several books including When Women Long for Rest, When You're Running on Empty, and Drama Free: Finding Peace When Emotions Overwhelm You. For more on her books and resources to strengthen your soul, marriage, and parenting, or for more information on her coaching services to help you write the book on your heart, see her website: www.StrengthForTheSoul.com.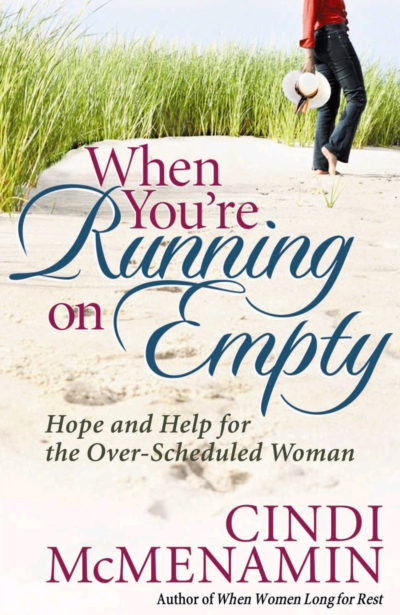 What Readers are saying about Cindi's book, Running on Empty: "Truly, there is not a woman out there who cannot relate to When You're Running on Empty." – Cheryl M. Anderson, Director of Women's Ministry, Morrill Baptist Church, Morrill, ME
Join the conversation: Where do you go to be alone with God?