by Cindi McMenamin @CindiMcMenamin
And God is able to make all grace abound to you, so that always having all sufficiency in everything, you may have an abundance for every good deed.  2 Corinthians 9:8 NASB
I remember the day I was supposed to meet Alice for lunch. I didn't want to go. It had nothing to do with Alice. I just felt I was running on empty, I didn't have much time, and I didn't have much to give.
Alice didn't have a problem she wanted me to fix, or any type of issue with which she wanted me to help. She simply wanted to meet a friend for lunch. As we sat there and talked, I learned a lot about her that day. And I learned a lot about myself. We talked about raising daughters, and how we each were raised. We expressed an appreciation for how God works in our lives. I shared with her some encouragement from Scripture and then prayed with her, asking God to give her wisdom and discernment as a parent. Then she prayed for me.
I left that lunch feeling grateful that I had met with Alice. I felt rejuvenated, refreshed, and refueled for the day. What had happened?
God works in ways we sometimes don't anticipate. I've noticed that when I have little left to give, but I show up anyway, God makes sure I'm blessed just for showing up. Sometimes God has a way of either filling me with the same energy I just infused into someone else, or He causes me to be encouraged by the person whom I thought I was going to encourage. I went to lunch that day expecting to pour myself into Alice, but she poured herself into me instead.
It must have something to do with the Golden Rule: "Do unto others as you would have them do unto you." The golden outcome of that, I believe, is that as we "do unto others" (in this case, provide encouragement, just as we'd want to be encouraged), God makes sure that encouragement comes back around to us. Sometimes God repays us through the kindness and encouragement of others. Whatever the case, I've found, most unexpectedly, that God often infuses energy into my life when I'm simply obedient and do what I know He wants me to do.
What goes around comes around in the name of Jesus. Second Corinthians 9:8 tells us: "And God is able to make all grace abound to you, so that having all sufficiency in all things at all times, you may abound in every good work."
Lord, help me to be open to the divine appointments You send my way, not just so I can fill others, but so that You, through others, can fill me.
TWEETABLE
He Gives Back to Us – encouragement from @CindyMcMenamin on @AriseDailyDevo (Click to Tweet)
About the author: Cindi McMenamin is an award-winning writer, national speaker, and certified writing coach who helps women strengthen their relationship with God and others. She is the author of several books including When Women Long for Rest, When You're Running on Empty, and Drama Free: Finding Peace When Emotions Overwhelm You. For more on her books and resources to strengthen your soul, marriage, and parenting, or for more information on her coaching services to help you write the book on your heart, see her website: www.StrengthForTheSoul.com.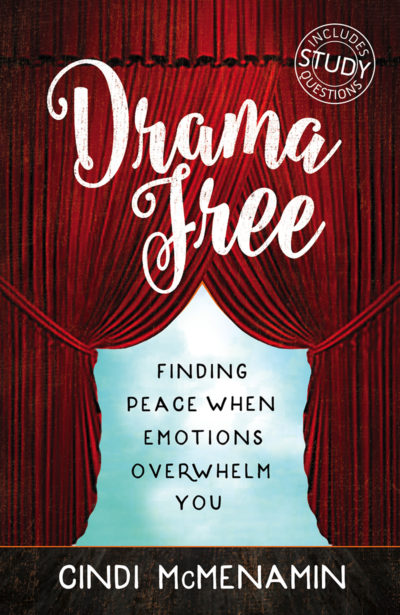 What Readers are Saying about Drama Free: It was a book I didn't want to put down. It was packed with Scripture, biblical truth, and helpful resources on how to diffuse drama that we all face in life.
Join the conversation: What life-supplying encouragement has God sent to you lately?