by Cindi McMenamin @CindiMcMenamin
Why are you in despair, O my soul? And why have you become disturbed within me? Hope in God, for I shall yet praise Him, The help of my countenance and my God. Psalm 42:11 NASB
For years, Jean struggled with feeling God's love and presence in her life. But, because she was looking for something tangible, something emotional, she continued to feel unloved and alone. Then one day, another woman showed Jean the facts from Scripture about God's love for her. One of them especially resonated with Jean's heart:
"God showed how much he loved us by sending his one and only Son into the world so that we might have eternal life through him. This is real love—not that we loved God, but that he loved us and sent his Son as a sacrifice to take away our sins (1 John 4:9-10 NLT).
Today, when Jean begins to doubt her Savior's love, she turns to the hard evidence found in God's Word and focuses on those facts, rather than on her feelings which can fluctuate from day to day.
Sometimes, like Jean, you and I don't feel God's love, either. But those are the times we need to rely on facts, rather than feelings. God presented the facts – evidence of His love for us – in Scripture.
The facts are:
God loved us so much He sent His Son to die in our place (1 John 4:10).
There is nowhere we can go where His presence is not with us (Psalm 139:7-11).
Nothing can ever separate us from God's love (Romans 8:38-39).
Scripture says "it is impossible to please God without faith" (Hebrews 11:6). Therefore, we are not to rely on feelings, but to have faith in the facts.  Feelings change depending on our circumstances, our moods, our hormones. Facts stay the same, regardless. When faith comes first – "I will believe it because He said it"– the feelings sometimes follow.
The Bible says not even "death nor life, neither angels nor demons, neither our fears for today nor our worries about tomorrow—not even the powers of hell can separate us from God's love. No power in the sky above or in the earth below—indeed, nothing in all creation will ever be able to separate us from the love of God that is revealed in Christ Jesus our Lord" (Romans 8:38-39).
We can add to that list: neither fear nor doubt, neither uncertainty nor unbelief, neither guilt nor shame, neither insecurity nor a sense of worthlessness will be able to separate us from the love of God.
Can you focus on the facts today and let them determine whether or not you feel loved?
Maker of my Heart, thank You for not only telling me in Your Word that I am Your beloved, but showing me, through Your actions. No greater love exists than the love You had and demonstrated for me when You gave up Your life for me so that I could live eternally with You. On days when I don't "feel" loved, help me to remember the facts about what You have done on my behalf.
TWEETABLE
Sensing God's Love – insight from @CindiMcMenamin on @AriseDailyDevo (Click to Tweet)
About the author: Cindi McMenamin is an award-winning writer and national speaker who helps women strengthen their relationship with God and others. She is the author of 17 books including her best-selling When Women Walk Alone (more than 130,000 copies sold), Letting God Meet Your Emotional Needs, When a Woman Overcomes Life's Hurts, and When God Sees Your Tears. For more on her books and resources to strengthen your soul, marriage, and parenting, or for more information on her coaching services to help you write the book on your heart, see her website: www.StrengthForTheSoul.com.
Recapture the romance of a relationship with God with When God Pursues a Woman's Heart. Within the heart of every woman is the desire to be pursued, cherished, and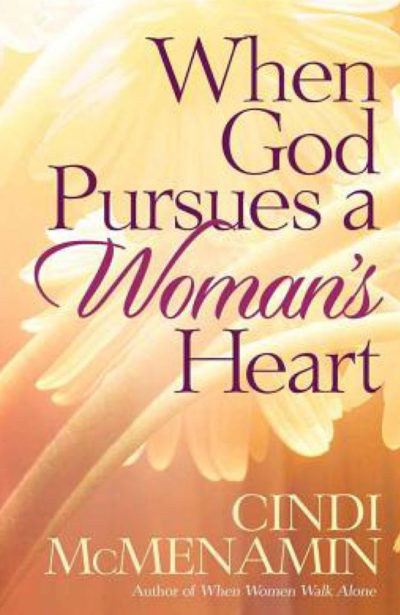 loved. There's only One who can lavish such love. Join Cindi as she takes you through the Bible to discover how God offers a relationship like no other.
Join the conversation: What fact about God do you turn to when you are not feeling His love?